FIRST BABY FOR 2005!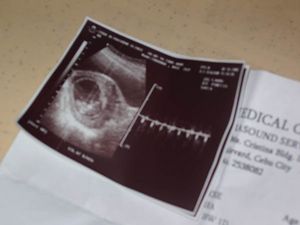 (hehehe... i'm too lazy to learn to use the scanner. this is easier.)
it's been awhile i haven't posted (though, i doubt someone really cares if i post or not) something. so here's an update about me. part of the reason why i've been silent for some time. 'been busy with work lately plus the baby 2005 and the baby 2004. i'm not complaining (defensive) but it's not easy having a very active almost-7-month baby and being almost-3-month preggy, you sometimes lose your mind! so who(m)ever found my mind, kindly keep it for a while and take care of it. my mind might be better off with someone else for now.
by the way, sex of the baby cannot be determined yet. hopefully, this time the baby whould be a girl. i can't wait to know the sex. so i could start buying (hopefully i have some cash to splurge) those pink flowery girly stuffs. i'm excited!